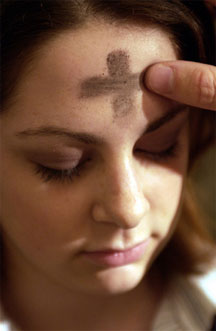 …grow up!
Today I've been reflecting on Ash Wednesday that took place yesterday. When I was at St. Peter's in Savannah, the rector, Sam Buice, my friend and mentor, decided to offer the Imposition of Ashes in the afternoon for anyone who might not be able to come to the 10:00am or 6:00pm service. This service would be brief, but meaningful. And another bonus to offering it was if people didn't come, we would have that time set aside for our own personal time to sit in the silence and prepare our own hearts for Lent.
So I've been in the habit of doing that, so coming to St. Nicholas, I decided to offer the same and see if people would take me up on it. I also encouraged the time for people to come and do the Rite of Reconciliation of a Penitent and explained the importance of confession. I set two chairs up behind the altar rail, grabbed my purple stole, and even sparked some incense to get myself in the mood. I said my own prayers, sat in the silence, and listened to God's voice, as still as it tends to be. 
And a part of me felt like I was growing. It was marvelous.
But that's not all! About 45 minutes into my time, the door opened and someone came in to receive the Imposition of Ashes. Soon after, someone else came in. Later, I could hear people waiting outside to come in. Before I knew it, 2 hours had passed and almost 20 people came in to pray, confess, and sit in the silence. And another cool thing? People of all ages came!
And we all grew. God, with mercy unbounded, enveloped that place with love and grace. People were absolved, reconciled, and sent out as new creations. As the prayer at the end of Reconciliation of a Penitent says, "Now there is rejoicing in heaven, for you were lost, and are found, you were dead, and are now alive in Christ Jesus our Lord" (BCP p. 451).
Later that night, we had our regular Ash Wednesday service, and a great crowd gathered there, too. 
And we all grew too. 
It was a wonderful start to a beautiful season of Lent. Thanks be to God!