The week after Easter has traditionally become the "week off" for many clergy. This guy is no exception. When I was the Assistant Rector at St. Peter's, Savannah, I usually had to defer to my rector Sam so he could have that week off. But thanks be to God, since I've been at St. Nicholas, I finally get this luxury. The season of Lent was particularly busy and somewhat harrowing. Lots of people were sick and in the hospital. We have a fantastic Lenten Series, but one that required a lot of work. Then Holy Week came and while I believe those liturgies are central to our lives as Christians, they are emotionally stimulating and rigorous. Finally, the big day of Easter came, which brought 221 people into the doors of St. Nicholas–a new record! Thanks be to God!
So needless to say, I was wiped out on the afternoon of Easter Sunday. I went home and started my time off with a 3 hour nap!
Molly and I decided that since we just moved into our new home, we should probably spend the week living in it. So we had a "stay-cation" which, in our economy, has become quite the norm in American families. We didn't have to get up early to take Tai to school, we slept in (somewhat), we had our own rhythm of rest, play, and work. First, we sent our two oldest kids to their grandmother's house in Byron to spend the night. Molly and I got a chance to troll the antique mall in Byron looking for new furniture. Ironically, we didn't find anything, but we had fun anyway. We even ate lunch at our favorite restaurant, Casa Mexico! We picked Liam up and headed back to Hamilton, where we worked on unpacking boxes and arranging furniture.
I spent the next couple of days working the yard. It's amazing how little I mind mowing grass and trimming trees on my own property, whereas I used to dread doing that in our rental house. But I found that time delightful and it didn't seem like work, although my body was sore the next day. The yard needs some landscaping, but I'm so pleased with it!
On Thursday, Tai and I went on a camping trip with my friend Lee and his son at High Falls State Park near Jackson, Georgia. Neither Lee nor I are experts at camping, and found we have very different ways of setting up a tent (his made more sense). He built an awesome fire, that survived even a thunderstorm! The storm sent us into our tent to eat our roasted hot dogs and baked beans, but the four of us were extremely content. We woke up the next morning, packed up, and went to the lake there to do some fishing. We pulled nothing but leaves out of the lake, and Lee's boy accidentally flung his pole into water, which I guess was a sacrifice to the petulant god of no-biting fish. We finished with a picnic and some frisbee throwing in the warm sunshine. It was magnificent.
We had more visitors over the weekend, including Molly's best friend Brooke and her 3 kids, who are the same ages as ours. We found that finally, we own a house that can handle 6 children running rampantly. They played everywhere, and I loved hearing all the thumping of footsteps on the hardwood floors.
On Saturday, Matt Hinnant came back to finish the painting job, and his fiancee April brought Dalton and Devyn over to play too, which was great for our kids, who were sad that their other friends had to leave.  While they did all that, I borrowed Matt's truck and loaded up a bunch of left over renovation materials and took it to the dump. Thanks, Matt, for the gift of your truck!
Sunday morning, I was really tempted to pop in to St. Nicholas to hear Liz Schellingerhoudt preach and celebrate. Instead, Bronwyn and I decided to worship at Christ the King Catholic Church in Pine Mountain. It was a great experience in a beautiful space. Father Madden was also out of town, so they had a supply priest as well. I "tweeted" that I was going there for church, and many of my Episcopal brothers and sisters asked my feelings about not taking communion there. If you go to a Catholic Church expecting to take communion when you're not Catholic, then you'll be sorely disappointed. But if you go in respecting that that is their tradition, and accept it as such (even if you don't agree), then you can enjoy the worship for what it is. I chose the latter path. To go in expecting something different is like going to Captain D's and ordering a Big Mac.
So it was an incredibly enjoyable week off. I am thankful that our congregation gives us the space we need to recharge our batteries. I felt truly refreshed as I went on my Monday morning hike. I decided to do a short hike since I had quite a bunch of e-mails to catch up on, but even a short hike is a hike.
I started at Fox Den and hiking about a mile in to the Broken Tree campsite. It's amazing how quickly the leaves have appeared in the last two weeks. The state park is transformed once again, reminding me of the new life God gives us each and every day. How can you not believe in resurrection when it's all around us?
I reflected on this coming week's readings. We have the stories of Saul's call to ministry as well as Peter's resurrection encounter with Christ. Both stories are so full of grace and redemption. I'm looking forward to preaching on Sunday!
As always, I like to fill you in on what music I've been listening to. This spring break was defined by an artist Sam Amidon, who goes by the stage name Samamidon. My sister-in-law Sally hooked me on Samamidon a few months back and I finally picked up his album All is Well. He is an indy folk artist, who has quiet vocals, acoustic guitar and banjo. He has a version of Ralph Stanley's O Death, which is beautiful and haunting in a different way than Stanley's. Just great music.
You might also be interested in what I read on my break (or you might not, but I'm going to tell you anyway–haha). I had asked the Harris County Library a while back to order some new graphic novels, which they did, much to my excitement! One that they got was an adaptation of Richard Stark's Parker: The Hunter by Darwyn Cooke. If you are a fan of Stark's crime novels, or crime novels or films in general, you might want to check this out. Cooke's style is very "cartoony," but his coloring of this book is very washed and gray, which fits the character of Parker to a tee. If you like stories about revenge and retribution, you will love this.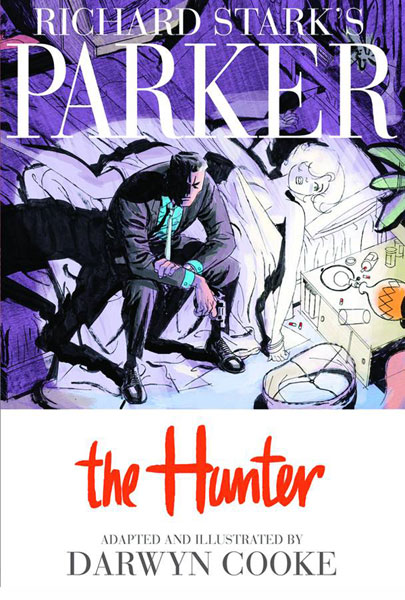 I'm trying to remind the library (and anyone else who will listen), that graphic novels are not always for kids. This book is a great example. This is definitely a rated "R" book, and just because it has pretty pictures doesn't mean that it's for kids. Comics are an art form, like prose or film, and you can communicate tremendous ideas through them just like any media. I'm trying to convince the library to let me teach a class on reading comics. I hope to do one more for adults than for kids, but I think the library has other ideas. In the meantime, I keep telling them not to stock these books in the youth or young adult section, but to create their own section, like they would DVDs.
One more thing, last night I went to a lecture at LaGrange College by Marcus Borg and John Dominic Crossan. Both are HUGE biblical scholars, recognized in many academic and religious circles. I have been studying their work since my religious education started at Berry. This was the first time I got to see them live. They focused on the Jesus of first century Palestine and his radical message of peace, non-violence, and transformation of the dominant systems of his day. The lecture was delightful and I immediately bought 3 of their books and had them signed afterwards. I hope I actually sit down and read them.
Well, this was a lot of information, but I wanted to reflect and share my week with you all. I am so glad to be back at work and into the routine. I'm looking forward to our new class on Keeping the Sabbath which starts tonight and will run for the next 6 weeks. Be sure to sign up!