As you might have heard in my sermon last Sunday (click here or click on the box to the right to hear it), after many months of discernment and conversation, St. Nicholas has developed a working vision for the future! This is incredibly good news, not just for the future, but for right here and now.
Now, a vision is different from our mission. Our mission is what God is calling us to do in the here and now. It contains our core values of what we think is important as a community and describes who we are as a people of God distinct from the other churches and civic groups in Harris County. It also contains our core purpose for existing. In case you have not heard what St. Nicholas' mission is, here it is:
In fulfillment of the Great Commission, the mission of St. Nicholas Episcopal Church in Harris County, Georgia is to be an example to the world of Christ's love for all people. We do this by:
+Being welcoming & inviting of all people.
+Being supportive of our community & engaged in our community.
+Accepting where people are in their journey.
+Helping in any way, spiritually or physically
+Nurturing spiritual growth
+Educating people about who we are, what we do, and what we believe.
Or, to be brief, our mission is to be an example of Christ's love.
Another way to explain our mission's implications is when we do not engage in these things, or when we violate them, we are not being the community of St. Nicholas Episcopal Church. We are less than who we are when we are not being examples of Christ's love as evidenced above.
So that's who we are and what we do now. Where are we headed?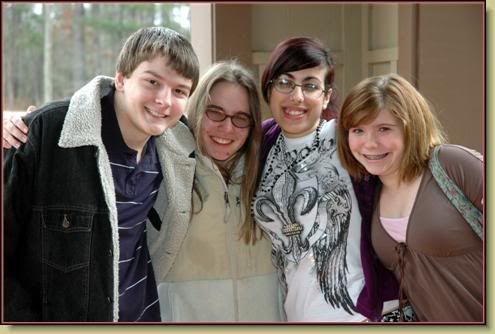 This past weekend, most of the Vestry and other members of the congregation spent time discerning this very question. We know we are called to be examples of Christ's love, but where will that lead us? We know we are growing, but what are we growing into? In 10 to 20 years from now, what might St. Nicholas look like?
I took lots of notes in this session and listened to what folks said. I want to be clear as your rector that while I'm a piece of the vision of this congregation, I am not Moses here to deliver to you the 10 Commandments. This is not my vision for you, it is our shared vision together! Here are some of the things I heard in the meeting:
"We're not here for ourselves." "We are a truly welcoming church. How could I invite you to my house and not let you eat?" "We are family-oriented without being family-sized." "We see a future of growth." "First, we build people & relationships, and from that comes a new building." "We are service-oriented, and need to continue to develop servant leaders." "We like to eat together! It's the glue that holds us together" "We feed people through programs like FOCUS." "We want a medium-sized church." "We want to teach our leaders how to draw from the pool of gifts in this congregation to develop more leaders." "We need to achieve financial stability and we need to teach people about giving." "We want to grow new members and invite them on our journey."
This was just the tip of the iceberg in terms of the discussion. But from that, we spoke and listened, prayed and laughed, agreed and disagreed, and as we did, we began to formulate a clear dream for the future. The vision is made up of two parts, a BHAG and the vivid description. DaAnna Stringer, our facilitator, used the term BHAG (Big Holy Awe-Inspiring Goal); a dream that has a "gulp-factor." I like to call it God's dream for us. This dream is made up of the things we are deeply passionate about, the things we can be the best at here in our time and place, and the things that drive our resource engine. It is something risky that we want to accomplish in the next 10 to 20 years.
Here's what we came up with:
Our BHAG:
St. Nicholas will be the center of nourishment in mind, body, & spirit for all people in our community.
Vivid Description (How we do it):
Out of love for Christ and this community…
all will be welcome at God's table.
We will nourish them with thoughtful and vibrant programs for all ages.
We will worship God dynamically & contemplatively.
We will serve to meet the needs of a hurting world.
We will build a campus to facilitate this vision.
We will seek resources to make this vision possible.
This is not a set-in-stone kind of vision. While it gives us direction, there is a lot of flexibility as we add new members who will add new dynamics to this vision. There is room for disagreement here too. If you don't want to worship God dynamically or contemplatively, for instance, you can speak up and process with us to help shape that vision even more.
This vision has implications not just for our community life together, but also in our individual lives. How will you and your family do these things when you are at work and school, the grocery store and the food bank, with friends and relatives? Take a minute and think about it. How will you do them out in the world, and how will you participate in them within the walls of our current building?
It's exciting to think about, isn't it? What if St. Nicholas became the center of such nourishment for our whole county and surrounding communities? Who are the faces you see in that congregation? What would our campus look like with that goal in mind? What programs will we offer? There is so much to do with this!
So what do we do now?
1. Pray and ask God for discernment about how to incorporate this mission and vision in your life.
2. Talk about this with your family.
3. Listen to the conversations in the community about the needs and how we might meet those needs.
4.  Tell people about what we want to accomplish and invite them to help us!
5.  Keep being so awesome and invested! The great thing about this vision is that we're already doing it!
The Vestry, staff, and leadership will be continuing to work on the development of this vision and how to implement it into our worship, education, buildings & grounds, communications, hospitality, outreach, parish life, and stewardship.
It is such an exciting time to be a part of St. Nicholas!