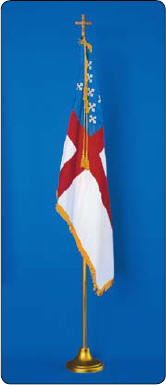 Our flags have arrived!
Thanks to many generous donations from St. Nicholas members, we now have an Episcopal flag and an American flag on display in the narthex of the church. They are 3 x 5 flags on some snazzy poles and in some beautiful stands. They look really nice and everyone who has seen them in the narthex thus far has said they are really glad we went with the nicest flags we could get.
This Sunday, August 15, at the 8:30 service, we will dedicate the two flags during the Prayers of the People. We can only dedicate them once, so we hope that those of you who made these flags possible will be able to come to the early service.