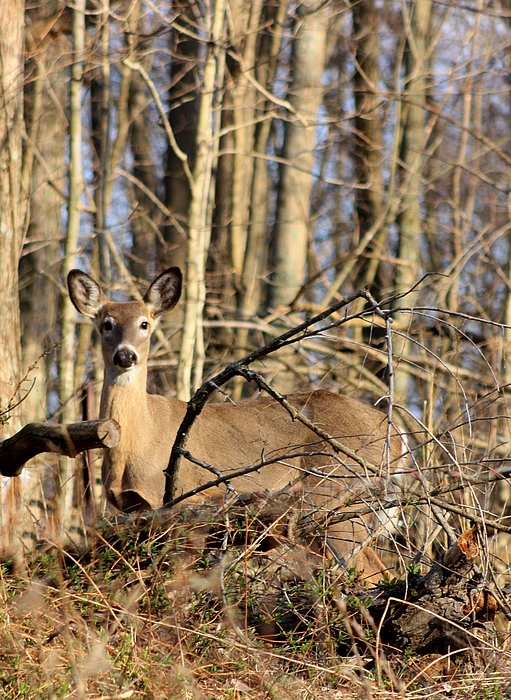 I've seen a lot of deer on my many hikes on the Pine Mountain Trail. Usually, at the sound of the slightest footstep, I'll hear a few scampering off into the woods. Today, though, was a bit different.
I had hiked in about a mile from the Mollyhugger Hill parking lot on the way to Dowdell Knob and was on my way back when I came around a bend. I immediately heard the rustling of leaves which usually tells me I've disturbed some woodland creature's peace. I looked to my right and no further than 10 feet away was a beautiful doe. Only this doe just stood there and stared right at me.
We both stood there staring, supposing, I guess, that if we moved, the other of us would leave. For a good 30-60 seconds, I gazed at her and she back at me. I slowly reached into my pocket for my iPhone to take a picture. But she eventually got bored and turned slowly and walked along, sniffing the surrounding area. I never got a clear shot of her with my camera.
There are those moments in nature where you just feel so connected. I certainly felt that way with that doe today. And it's in those moments that God becomes tangible.
Where have you seen God tangibly today?
Next week, I'm spending the week in the woods camping with my friend Lonnie up at Amicalola Falls in North Georgia. We will be spending the week on the mountain with God, saying our prayers, reading some books, and hiking some trails. It's that time of year to reconnect and get re-centered. Perhaps God's will become tangible once again…
There is a prayer I pray every morning from a Celtic prayer book I'm currently using:
May the peace of the Lord Christ go with you,
wherever He may send you.
May He guide you through the wilderness,
protect you through the storm.
May He bring you home rejoicing
at the wonders He has shown you.
May He bring you home rejoicing
once again into our doors.
May God bring us all home rejoicing at the wonders God has shown us! Amen!