St. Nicholas Episcopal Church Annual Parish Report 2010
Rector's Report
Grace and peace! Those are the words that best sum up this past year in my ministry as Rector of St. Nicholas. My second year has proven to be more challenging with much more learning as I have developed as a priest and as your Rector.
Let's look at the numbers:
Our average Sunday attendance (ASA) is as follows:
8:30 service: 20
11:00 service: 63
Combined:  80
This is up from last year's ASA of 78, but has slowed a bit since the previous years of gaining 8 on average.
We had 5 baptisms, 3 of whom were regular St. Nicholas attendees (Ella Rivera, Luke Townsend, Grace Metsinger, Kathryn Metsinger, Annabelle Hughes).
We had 4 confirmations (Jackie Lintner, James Lintner, Grace Metsinger, Kathryn Metsinger) and 1 reaffirmation (Chris Lintner) at the Cathedral in December.
We had 3 weddings, one of which was done at Callaway Gardens (Henry/Hedden), one at St. Nicholas (Hinnant/Avery), and one at home (Robinson/Price).
By the grace of God, we had no funerals.
We welcomed 7 people who transferred their membership:  David & Katherine Johnson, Nancy Snoots, Dianne Armstrong, April Hinnant, Beth & Kin Brown.
Sadly, we had 6 members transfer out for varieties of reasons:  Bob and Pat Newton, Mark and Karen Kurtz, and Josh and Lacy Razor. We wish them luck in their journeys and invite them to return at any time.
Overall, we have 92 regularly attending members. We have 34 regular attendees who are not yet members. We have 58 members on the books who have not transferred, 22 of which used to attend regularly. This all totals 184 people who are connected to the St. Nicholas family.
We also have 44 pledging units, which is an increase from last year. You will see how much of this makes up our budget below.
Indeed we are a growing parish, and we are continuing to engage our mission of being an example of Christ's love in this community, and we are taking steps to fulfill our vision to become the center of spiritual nourishment in our community.
Below you will see all the things that God has done through our shared ministries. Off the top of my head, the highlights of the year for me are:
Our first Vacation Bible School for our community, which was a huge success!

The "pulpit swap" we had with our brothers and sisters at Christian Valley Church in Cataula.

The camaraderie and organization of this year's Lobsterfest, which also netted $15,000.

The generosity of our congregation in stepping up to meet our 2011 Stewardship goal of balancing our budget.

Sitting with people like Doug Martin, Nick Simpson, Ralph Graham, Chris Butzon, and many others during hospital visits.

Working with our Vestry on tough challenges, and getting "real" with them.

Finding our home on Hill Street and opening it up for gatherings, parties, and events.

Working monthly at FOCUS and becoming more involved with the volunteers and clients there.

The youth retreat to Camp Mikell which brought 16 youth there for the first time.

Seeing the music program thrive under the leadership of Sam Roney.

People in the community knowing who St. Nicholas is and what we do.
These are just a few of the things that have made me so proud to be your Rector. This year has also met with some challenges, including our debate over placement of American flags in the church, decreasing our pledge the diocese in order to balance our budget, losing some members because of personality conflicts, and our Vestry becoming overworked and in need of some restructuring. All of these instances, though, have been filled with immense grace from God, and has brought us closer together, and for that, I'm extremely grateful. I am continuing to learn as a new Rector, and as a new congregation, so is St. Nicholas.
There are many things that excite me in the coming year.
The Vestry and I are working closer together to create leadership at St. Nicholas that is life-giving and educational. This includes restructuring how we do Vestry meetings, engage volunteers, and how we talk about things like money and ministry.

The Strategic Planning Committee has developed a survey to address our needs as a parish. This will hopefully lead to starting a building project in the next year, including construction of a new sign on the corner of Highway 116 and Mobley Road.

Adult Formation programs to deepen the spirituality of our people.

Engaging more people in our outreach ministries to help people in need.

Molly and I having our 4th CHILD and celebrating that with our congregation.
I am so thankful to everyone for allowing me to serve in this role. My family and I are so happy here and feel like roots have been laid here. For the first time in a long time, we feel like we're HOME. I cannot express enough gratitude to my wardens Peggy Martin and Drucye Robinson for their support, their encouragement, and their love. Also, I am thankful to Lynn Hall who served so diligently as our secretary this year. Tom Cheatham has served as Treasurer for 4 years and has brought St. Nicholas through some extremely difficult financial times during this economic crash, and I thank him for his service. Graham Horne and Sharon Cheatham were on the Vestry that brought me to St. Nicholas, along with Peggy Martin, and they served so faithfully in developing events like Relay for Life and Lobsterfest. I am thankful for Sam Roney, who hasn't taken a Sunday off yet (!) and has allowed our people to sing again! I am thankful to our current Vestry, Chris Butzon, Michelle Moody, Drucye Robinson, Sheila Dixon, Dave Halmrast, and Anne Simpson for their hard work which has shown great fruit. Most of all, I'm thankful for every one who sits in a seat here and makes this place the wonderful place it is.
The Holy Spirit is alive and well in this place, my friends, and when we are faithful, the possibilities of where she will take us are endless.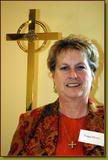 Senior Warden's Report by Peggy Martin
Assigned vestry members a block of church members to make sure things were ok with them.

Went to Camp Mikell for the rope course for the youth.
Attended Diocesan council in November.
Attended Ministry fair.
Taught and helped set up and take down our first Vacation Bible School.
Had vestry members take a list for each one to contact for potential vestry members.
Recruited new acolytes.
Supervised and schedule acolytes.
Helped with programs and events.
Helped with sensitive issues at church.
Supported the Rector and his family throughout the year.
Worship by Sharon Cheatham
This past year, the altar guild (Liz Dixon's leadership), flower guild (Suzy Eidson's leadership), LEM's(Father Jeff's leadership) and the acolytes (Peggy Martin's leadership) have done a wonderful job.  Due to Sam's leadership as our music director, St. Nicholas now has an outstanding choir and some of the best music around.  Thanks to all of you, we are truly blessed.
January:  Annual Parish Meeting and Potluck Lunch reports were given and new vestry members were voted for vestry
February:  Ash Wednesday, Altar Guild Training and LEM Training
March:  Flower Guild Training,  Palm Sunday and Beginning of Holy Week
April:  Maundy Thursday, Good Friday and Easter
May:  Mother's Day Celebration, Graduation and Pentecost Sunday
June:  Father's Day
August:  Church Picnic
October:  Blessing of the Animals
November:  All Saints Day, Veteran's Day, Beginning of Advent
December:  St. Nicholas Day Celebration, Lessons and Carols,  Christmas Eve Service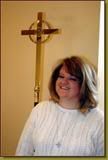 Education by Michelle Moody
It has been a fast paced, but power packed year of christian education at St. Nicholas.  Here are the highlights:
The nursery is for babies and toddlers aged 0 to 3 years and is staffed by the wonderfully caring, competent, and reliable Kim Stokes.  Kim has a Masters degree in education and a Specialist degree.  In 2010 our nursery has "exploded" and by March 2011 we will have a total of 4 regularly attending babies.  Thanks be to God!  However, we are very "limited" on space especially during special services.  As we grow, this issue will have to be addressed.
The class for children ages 3 to 10 years went very well this year.  We have an average attendance of 10 children and are continuing to use the "Living The Good News" curriculum.  This curriculum is lectionary based correlating to the seasons and calendar of the church year.  The children are introduced to the meaning and story of the readings and gospel for that particular Sunday, then it is reinforced by hearing it again in church.  This has seemed to work well with the children and I believe they are actually learning biblical concepts about who and what God is, how to live their lives as God would want them to, how to be in relationship with him and others, and the life/teachings of Jesus.  The Living the Good News curriculum also has an extremely creative and user friendly website to empower teachers to engage children and I urge them to take advantage of this free supportive resource.   The teachers do have an option of coming up with their own "lesson" from other sources and many of our experienced teachers do this from time to time.  The children Sunday school teachers are:  Peggy Martin, Bert Tomlin, Jackie Lintner, Michelle Moody, April Hinnant, Graham Horne, Marcie Horne, and Sheila Dixon.
We also hosted our first Vacation Bible School in July, which was a huge success. We had no budget for this program, yet pulled off tons of decorations, curriculum, and fun for 20-30 children and youth. It was a great start to this new program.
The class for teens ages 11 to 18 years has been sporadically attended, but there is a core group of teens that do come.  This is a hard age to handle conflicting extra circular activities, school work, peer pressure, etc., it is not surprising that these things interfere with coming to Sunday school; however, we should strive for more teen attendance.  Kenny and Terri Townsend and Heather Roper have been very faithful in "being there" for our teens and now that they have two babies.  The class engages the teens in issues pertinent to their daily struggles, successes, and just being a "teenager".
The youth group gained a valuable asset in Cami Fanning this year. Cami is a college student who hopes to be a youth minister someday.  She actually volunteered to work with our youth and we are so lucky to have her.  They have had many events such as retreats at Camp Mikell, four square tournaments, get together, movies, bowling, etc.  This is vital for our youth.  They need to be able to have fun with one another and have a place to belong.  I am so proud of each and every one of them for coming out in droves to help each time we ask (sometimes we don't even have to ask).  Many of them serve as acolytes, readers, and choir members.  They are to be applauded for the selfless service to our church and especially to our events for kids.
The classes for adults have been really thought provoking and interesting with a variety of topics such as Faith and Finances, the Kerygma series, The Shack, the history of Halloween, the journeys of St. Paul, and the Holy Family for Advent.  With all these choices, there was something for everyone.  Great attendance and feedback from all the adults that attended.  Leaders for the adult classes were The Rev. Jeff Jackson, The Rev. Donna Gafford, The Rev. Tom Jones, Mollie Smith, and others.
We have also had several Tuesday night classes. At the beginning of the year, Tuesday nights were very well attended, but throughout the year, the evening program lost some momentum and for now, Tuesday classes are on hiatus until there is some expressed interest. Episcopal 101 taught by Fr. Jeff has been successful on a monthly basis. The class averaged 6 attendees this year, with Chris, Jackie, & James Lintner and Grace & Kathryn Metsinger being confirmed in December.
The bottom Line for Christian Formation at St. Nicholas is,  we have great leaders, teachers, materials, and volunteers that ensures a solid foundation of christian education for all ages.
2010 Events coordinated involving children and teens:
Super Bowl Party
Easter Egg Hunt
Vacation Bible School
Pool Party
Trunk or Treat
FOCUS Thanksgiving Food Drive
Christmas Parade
The Feast of St. Nicholas (Day)
Christmas Pageant
Communications by Drucye Robinson
Highlights of our accomplishments in 2010 include:
I regularly sent articles and pictures to the Harris County Journal and Columbus Ledger-Enquirer publicizing our church services and events.
I posted "Your Week at St. Nick" on our web site each week.
I prepared handouts and participated in the St. Nicholas Ministry Fair this year seeking volunteers for the Communications Committee.  Didn't sign up any volunteers, but had one person express some interest.
I updated the St. Nicholas Address and Phone Listing regularly and emailed the list to parishioners.
I designed several posters and flyers to publicize St. Nicholas events.
I served as Publicity Chairman for Lobsterfest 2010 and sent articles to news media in Columbus, Hamilton, Pine Mountain, and LaGrange.
I ordered outdoor banners to advertise the summer service times.
I designed and procured professional printing for our 2010 Stewardship/Pledge Card.
I designed a St. Nicholas ad to be published in the Harris County High School football program.
I designed and placed an ad in the Harris County Journal for our 2010 Festival of Lessons and Carols service.
The vestry voted to transfer the task of procuring and installing a large, permanent, lighted sign for the corner of Hwy 116 and Mobley Rd. to the Strategic Planning Committee.  This was done because of concerns about the grading of the corner when our future church building is positioned.  The Strategic Planning Committee wants to hire professionals to do a comprehensive site survey before the sign is placed on the corner in order to avoid moving the sign some time in the future.
Many thanks to our volunteer photographer, Lynn Hall, who worked tirelessly to capture pictures of our many events in 2010.
Thanks to everyone who contributed to the monthly newsletter this year, especially Dave Halmrast, Bill Hogg and Linda Sawyer.
Thanks to Father Jeff, Lynn Hall, Marci Horne, Judy Jenks, Barbara Morgan, Jan Pylant, and Charlotte Winsness who make up the St. Nicholas Communications Committee.
Communications Goals for 2011:
Continue tasks described in numbers 1 through 5.
When funds are available, update Automated Church Systems software to include an online member database.
Seek volunteers who want to share their communications gifts and talents.
Hospitality by Anne Simpson
We have had a total of 63 people sign our Guest Registry or fill out a pew form.
I know we have had more visitors than that so I need your help in getting information
about our visitors.  Remember we are all called to the Hospitality Ministry.
Hospitality is now responsible for Breakfast.  There will be a new sign up sheet on
bulletin board in hall.  If there are any questions about procedures or amount of food
to prepare, please ask me or e-mail me at anneparmersimpson@yahoo.com.
I am forming a new committee to create an Integration Process for Saint Nicholas
new members or visitors that have expressed an interest in learning more about
our Church. If you would like to be part of that committee please contact me.
Saint Nicholas needs more ushers and greeters. If you are interested in that ministry,
please contact me.
If you can think of any ideas that might make people feel more welcome or
comfortable, please contact me.
Outreach by Graham Horne
Our main Outreach event is Relay For Life. This is my 2nd year organizing the event and things went very well.
We also offered opportunities for people to become involved with Compassion International by sponsoring children and African Ministries through the Sale of Arts and Crafts.
Our share the warmth of Christmas campaign has kicked off and is very apropos for the current climate.
Our parishioners continue to provide the energy for FOCUS.
Our most effective outreach however has been our partnering with Christian Valley Church, in the form of the Pulpit Swap and the relationship that has formed between us.
Our appearance at Public events (MLK and Christmas Parades etc) have heightened the public awareness. They may not know where we are, but they sure do know who we are!
Parish Life by Sheila Dixon
In addition to the following events, we had three baptisms this year.
JAN
We had 4 families participate in the MLK day parade.
A successful annual meeting including potluck lunch
FEB
Mardi Gras was a hit managed by Lynn Hall and Kenny Hall
MAR
Lenten Series dinners were successful and the speakers were awesome.  We had themed potluck suppers each night.  Attendance ranged from 25-45. Anne Simpson co hosted these dinners.  Thank you.
APR
Easter potluck in the church followed by egg hunt outside in the yard
MAY
Many pitched in to make Relay for Life successful.  We raised over $1100 for this event
Thanks to all who participated in our yard sale.  We raised over $1200 with the bake sale, junk sale and lemonade stand
AUG
Annual Picnic at the Callaway's was so much fun!  Although it was hot all who attended had a blast. I believe we had over 100 people at this year's picnic
Breakfast club was started with the return of two services.  Initially we had 12 families preparing the b'fast meal.
SEP
Lobsterfest was a success raising approx. $15,000 for our operating budget.  Better than that we worked as a group and made it successful. Sue and Linda did a fantastic job chairing this event.
OCT
Rally day – attendance was low. However, we were able to successfully reach our operating budget for 2011 without cutting existing programs.
Trunk –a- treat…huge success.  I will bet there were over 150 families that visited our event. – Michelle and Andy did GREAT! It gets bigger each year!
NOV
Thanksgiving potluck was able to be held outside and was a hit.  Next time, we will advertise "bring your own chair!"
DEC
Christmas parade – we had 20 or so folks come out and participate in the making of the float.  We saw others from St. N in the crowd cheering us on.  It is a wonderful experience without any negatives!
Christmas Tea and Trivia was successful.  It brought a great team of folks from St. N working together.  We invited the community together to celebrate with us.  We sold 78 of the 90 seats.  With the bake sale and wine sales, the event paid for itself.
Stewardship by Dave Halmrast
2010 was a challenging year for stewardship at St.Nicholas.  Growth in membership was a key goal along with creating a keener awareness of the church's financial and human resource needs.  A Stewardship Committee was formed including David Halmrast, Larry Nordin, Mike Sawyer,Tom Cheatham, and Gene Demonet.  Through their efforts and with the support of Father Jeff, a plan was created which emphasized increased and continuous communication to Church members about the meaning of stewardship.  This plan included a "Steward of the Month"  to be included in our newsletter, The Spirit of St. Nicholas, monthly Stewardship Committee meetings, special sermons reminding us what God has to say about stewardship, promotion and personal invitations for "Rally Sunday' to roll out our 2011 campaign, and weekly communication to the congregation on stewardship funding results.  Through the grace of God and several special contributions our 2011 goal was achieved.  We look ahead to 2011 confidant that we will continue to recognize the importance of stewardship to St. Nicholas.
2011 APPROVED BUDGET SUMMARY by Tom Cheatham & Gene Demonet
REVENUES: $200,000
$145,000   PLEDGES
$  20,000   CONTRIBUTIONS
$    6,000   LOOSE OFFERING
$       700   FLOWERS
$  28,300   PARISH EVENTS
EXPENSES: $200,000
$105,156  CLERGY
$  14,064  ADMINISTRATION
$  20,600  MUSIC AND WORSHIP
$    5,620  EDUCATION
$  30,392  BUILDING AND GROUNDS
$       526  COMMUNICATIONS
$       100  HOSPITALITY
$    3,000  OUTREACH
$  13,000 PARISH LIFE
$    7,542 STEWARDSHIP
Due to illness, we did not receive a Buildings and Grounds report or a Music report at the time of publication.