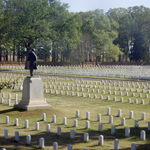 The St. Nicholas Out & About Group invites all St. Nicholas adults to join us for a trip to Yoder's Restaurant in Montezuma, GA and Andersonville Historic Site this Saturday, February 26th.
We plan to meet at the Ellerslie Depot (click here for a map) at 10:00 AM and drive to Montezuma for lunch at 11:30 (72 miles). At 1:00 PM, we will depart to Andersonville (11 miles) and return to Ellerslie at approximately 4:00 PM. Young people and children are welcome on this trip if accompanied by their parent or grandparent.
If you have any questions, contact Lynn Hall at (706) 561-2698.