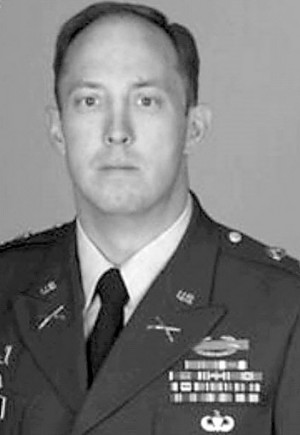 As we enter the month of July and celebrate our independence on the 4th, I am reminded of a recent experience I had when I was invited to attend a Change of Command ceremony at Fort Benning. Marty and Beth Barr, former parishioners of mine at St. Peter's, Savannah, are now stationed at Fort Benning and have been worshipping with us at St. Nicholas. They are a wonderful couple with a beautiful family with 3 daughters, Ginny, Sarah, and Molly. Marty has been the commander of the 2nd Battalion, 58th Infantry Regiment and is soon about to be deployed again.
We readily think about the brave men and women who serve in the armed forces, and this ceremony did a wonderful job of honoring Marty and his sacrifice for our freedoms. But what was equally humbling at this ceremony was to see Beth and her girls get honored for their duty to our country. As wife and daughters, Beth, Ginny, Sarah, and Molly also have quite a bit to sacrifice in order to support Marty in his service. Knowing Beth and the girls, they do this so humbly and graciously. At this ceremony, they read aloud all the things Beth does to support Marty and their community at Fort Benning. Even Marty noted in his speech that he could not do his job without Beth's support and love.
No one knows sacrifice more than people like Marty and Beth and their girls, much like many of you who have done the same as people who have served in the armed forces or people who were wives or children of these people. Independence comes not without dependence on these brave people. People have to sacrifice in order for us to enjoy our freedoms. In a world where everything is focused on our individual needs and wants, folks like the Barrs remind us that lives spent in sacrifice for the needs of others is the life that Christ calls us to live. Even if we're not connected to the military in any way, we can still learn from this example and strive to live our lives as servants to one another.
This Sunday will be Marty's last Sunday with us before his deployment. Please keep him in your daily prayers, as well as Beth and the girls. Pray for protection and peace for Marty and all who find themselves in danger's way. Most of all, pray for a speedy return for Marty and the rest of the troops.
Thank you, Marty, Beth, Ginny, Sarah, and Molly for teaching us what it truly means to be servants of God.