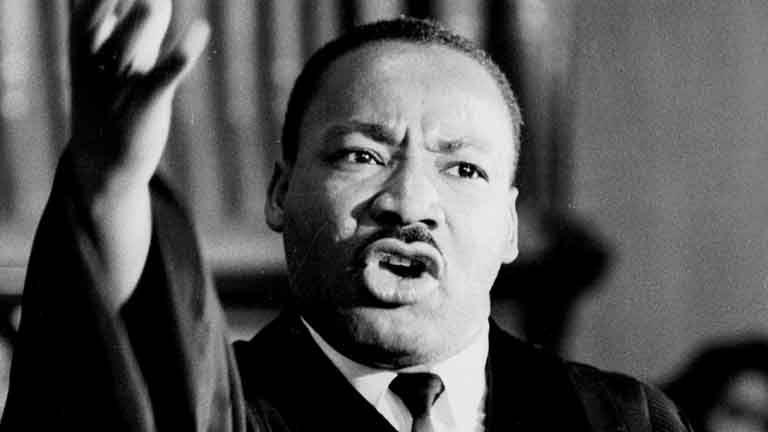 Below is the text of the sermon preached by Father Jeff at the 2015 Martin Luther King, Jr. Day Inspirational Program held at Friendship Baptist Church on January 19, 2015.
Almighty God, by the hand of Moses your servant you led your people out of slavery, and made them free at last; Grant that your Church, following the example of your prophet Martin Luther King, may resist oppression in the name of your love, and may secure for all your children the blessed liberty of the Gospel of Jesus Christ; who lives and reigns with you and the Holy Spirit, one God, now and for ever. Amen.
First, I want to say "thank you." Thank you to my friend Pastor Eric Seldon of Christian Valley Church for inviting me to speak. Thank you to Pastor Lacoia Day and the good people of Friendship Baptist for opening your doors to us. Thank you to all of you who are here today. Thank you, Lord, for giving us this day. Thank you.
Second, I want to be real for a moment. Can I do that? Is this a safe place for me to be honest? Pastors have to ask that question because not every church is a safe place to be real and honest. I wish it weren't true, but it is. So can I be real with you? I have a confession to make and seek your forgiveness as the Body of Christ. You may not like it and it may put us at a distance. You may look at me differently. But before we get going here, I thought I might need to put all my cards on the table. So here we go…
My name is Jeff and I am a recovering racist.
I say this because I see people all the time say, "I'm not a racist," or "I'm not trying to be racist, but…[insert racist comment here]." I'm not in denial about my recovery. I grew up in the south as a white male in a small town in east Alabama. They say a place can't make you racist, but I disagree. My parents taught me to love everyone and to see beyond the color of skin. I'm grateful to them for that gift. However, living in rural Alabama, suburban Georgia, and even rural West Georgia frames an experience where you just know that people are different because of the way they look. My grandfather, whom I loved and idolized as a child, lived in rural Tennessee and referred to African-Americans with the "n"-word.
I have made negative, sweeping generalizations of people who are different from me. I have heard whispers from other white people about the *black* people they see. I've heard racist jokes told in church gatherings and in my younger days, I might have even been the one to tell them. I live with a history of segregation in the many places I've called home. As much as I love these places, this history brings me shame, even if I wasn't directly involved.
I participate in a system where I get special privileges because I'm white. People don't look at me with suspicion when I am walking down the streets of Hamilton. This is a privilege that not everyone has.
I know well the darkness that hangs in the heart of someone who wants to be separate, at a distance, sticking to the people who look and act like me. But I am trying, daily, to let the light of Jesus so shine in that darkness to show me another way.
So I confess this to you to seek your absolution but also to show you my motivation for wanting to be here with you. For it is only through relationship can hearts change. I feel much like St. Paul, who in writing to the Philippians, confessed his own sins: "If anyone else has reason to be confident in the flesh, I have more: circumcised on the eighth day, a member of the people of Israel, of the tribe of Benjamin, a Hebrew born of Hebrews; as to the law, a Pharisee; as to zeal, a persecutor of the church; as to righteousness under the law, blameless. Yet whatever gains I had, these I have come to regard as loss because of Christ. More than that, I regard everything as loss because of the surpassing value of knowing Christ Jesus my Lord. For his sake I have suffered the loss of all things, and I regard them as rubbish, in order that I may gain Christ and be found in him, not having a righteousness of my own that comes from the law, but one that comes through faith in Christ, the righteousness from God based on faith." Philippians 3:4-9
Paul comes to them, not denying his sketchy past, but admitting it because it was his failures that drew him forward to the mission that Christ had set before him. Do you know that it wasn't a blinding light or a voice calling that really changed Saul the murderer of Christians into Paul the evangelist of Christ? If you remember Saul's story in Acts of the Apostles, chapter 9, the Lord had called a man named Ananias, a disciple of Jesus, to be the one to catch Saul once he finally fell. Jesus said to Ananias, "I'm going to knock this guy off his horse, but you will be the one to catch him." Ananias said, "NO WAY! I know about that guy. I know how he hates us. I know what he's done. Find someone else!" And the Lord replied, "But it is Saul whom I've chosen to spread this message to the Gentiles." Jesus chooses the broken, the fallen, even our enemies to bring light to our darkness. And it all happens through relationship. Jesus calls Ananias to cross the divide and reach out to Saul in order to help him change. So while Saul's conversion is dramatic and almost magical with the blinding light and the voice of Jesus, the only way it took hold was because Ananias was willing to love him.
So I hope knowing where I come from tells you why I want so desperately to continue God's vision that was communicated through Dr. King. But the only way to make that a reality is through relationship.
Six years ago, I moved to Harris County from Savannah, where I was in charge of gathering other Episcopalians in the MLK parade. When I moved here, I wanted to continue my tradition of marching in an MLK parade and was delighted to see that Hamilton had a parade. I saw the welcome notice in the Harris County Journal and called the number to ask if St. Nicholas could participate. The man I spoke to was so kind and welcomed us with open arms.
I wasn't sure how St. Nicholas would respond being a small, rural parish of mostly white folks. I told them I would be out there and they were welcome to join me. A group did join me, though, and we discovered that we were the only "white" group who participated. We were so encouraged and embraced by this community, and for that I am so grateful. Thus began the relationships.
A while later, I got a phone call from Garvin Gourie from Christian Valley, who had a call from God to do some work in bridging the gap between churches. He was given my phone number and we began to ask the question "Why does everyone look like me in church?" We work in diversity, we go to school in diversity, yet we worship in segregation! In the work that Christian Valley and St. Nicholas do together, we're not trying to merge churches or steal sheep from each other. Instead, we're engaging in an experiment in relationship. We have prayer partners from each church who pray for each other. Pastor Eric and I text each other just about every week to encourage one another. We worship together in the summer, singing praises to God, breaking bread together, and getting to know one another. Many of our church members work together and are friends outside of church, so it is ironic that Sunday morning is the time that often divides us.
Relationship work is slow and arduous, but often full of joy. It doesn't happen overnight. If relationship work is real, it means there are bound to be disagreements and sometimes conflict. But like any friendship or family relationship or marriage, conflict that leads to reconciliation only serves to strengthen our bonds.
Instead, today, conflict tends to separate us further. 2014 was not a good year for race relations. The deaths of Michael Brown and Eric Garner only served to show us that we have not arrived. We have serious, serious issues around race in our country. The media doesn't help us, but only serves to rile us up and send us to our corners awaiting the next round so we can come out swinging.
But I also found myself very much in the middle in these debates. I happen to know and deeply love many police officers. My brother-in-law is a cop. My best friend from high school is a state trooper. Another friend of mine is a policeman. I have police officers, current and retired, in my congregation. I know the commitment they have. I know the risks they take. I know they're not perfect, but they do the best they can. It is a hard and thankless job. Police are dying, African-Americans are dying, everyone is dying.
But we are not without hope. Or are we? Do we still dream of a time when the young, black male and the white police officer are arm-in-arm in unity? Do we still believe that there will be a day when people will be judged by the quality of their character rather than the color of their skin? Do we think that racist people can be changed through the love of those who stand on the other side of the aisle? If we don't believe this, then why are we here?
We have work to do, my friends. We can no longer sit back and let society just do it for us. We have to engage with one another. "Let there be peace on earth, and let it begin with me!" For those of you who are recovering racists like me, you HAVE to find someone completely different from you and begin a relationship with them. Not to get them to convert to your way but for you to learn from them and perhaps be converted yourself. To the young black men in the room who feel scrutinized and looked down upon by the police or anyone else, you must make relationship with them! To the older white person who is afraid of a poor, black person, you must reach out to them personally and establish a relationship with them. You must embrace one another in order for our hearts to change.
If we can admit that we have racist tendencies and untrue prejudices, then maybe our hearts can begin to change. Once our hearts change, the world will not be far behind. If you can forgive me for my history of racism, then perhaps there is a chance. If you can embrace the Sauls of life like Ananias did, then the hope that Jesus Christ breathed into the world can continue to flourish.
Meisha Senior wanted me to bring my guitar and play a song. I wracked my brain to find something I wanted to play. I ended up with a song that's actually a prayer. It is the prayer of St. Francis, a man who, much like Dr. King, saw that harmony could be achieved between opposing forces. He saw that relationship could be the catalyst for change in how we see other human beings but also nature and animals. Christ gave him the vision of a world truly at peace, and he worked hard to make that vision a reality. His prayer still rings true, especially in times like this. I believe if we pray this prayer daily, we'll start to believe it and we will be transformed into the likeness of Christ, as we're meant to be.
"One winter day when Francis and Brother Leo were walking along the road to Assisi from Perugia, Francis called out to Leo in the bitter cold five times, each time telling him what perfect joy was not: "Brother Leo, even in a Friar Minor (which was how he referred to his order) gives sight to the blind, heals the paralyzed, drives out deivls, gives hearing back to the deaf, makes the lame walk, and restores speech to the dumb, and what is more brings back to life a man who has been dead four days, write that perfect joy is not in that." And so he continued with different enumerations of success and even spiritual enjoyment. And when he had been talking this way for a distance of two miles, Brother Leo in great amazement asked him: "Father, I beg you in God's name to tell me where perfect joy is then to be found?"
And Francis replied, "When we come to the Portiuncula, soaked by the rain and frozen by the cold, all soiled with mud and suffering from hunger, and we ring at the gate of our friary and the brother porter comes and says angrily, 'Who are you?' And we say, 'We are two of your brothers,' and he contradicts us saying, 'You are not telling the truth. Go away!' And he does not open for us, but makes us stand outside in the snow and rain, cold and hungry until night falls—then if we endure all of those insults and cruel rebuffs patiently, without being troubled and without complaining, and if we reflect humbly and lovingly that the porter really knows us. Oh, Brother Leo, write that perfect joy is to be found there!"
"And if we continue to knock and the porter comes out and drives us away with curses and hard blows and if we bear it patiently and take the insults with joy and love in our hearts. Oh, Brother Leo, write down that this is perfect joy! And now hear the conclusion: Above all the graces and gifts of the Holy Spirit which Christ gives to his friends is that of conquering oneself and willingly enduring sufferings, insults, humiliations, and hardships for the love of Christ." (The Little Flowers of St. Francis)]
Make me a channel of your peace.
Where there is hatred let me bring your love.
Where there is injury, your pardon, Lord
And where there's doubt, true faith in you.
Chorus:
Oh, Master grant that I may never seek
So much to be consoled as to console
To be understood as to understand
To be loved as to love with all my soul.
Make me a channel of your peace
Where there's despair in life, let me bring hope
Where there is darkness, only light
And where there's sadness, ever joy.
Make me a channel of your peace
It is in pardoning that we are pardoned
In giving to all men that we receive
And in dying that we're born to eternal life.