Comments Off on Word on the Street
After our energizing and Spirit-filled service on Sunday, Katherine Johnson and I took our water bottles and sunglasses across the street to Mobley Plantation and began knocking on doors. I've only done this kind of ministry a couple of times in my life, and never with my Senior Warden. I've often struggled with this type of evangelism, but realize that sometimes the only way for folks to know about this wonderful group of disciples called St. Nicholas is for us to go out and tell them. The purpose isn't to beat people over the head or strong-arm them into filling our pews. It's just to introduce ourselves, let them know we're available, and most of all, listen.
We only went to one street yesterday. Many doors didn't open. One couple who were sitting outside quickly ran inside and didn't answer when we knocked. Most people just stared at us and thanked us awkwardly. But the goal is quality, not quantity, and we did have a couple of great conversations. First, we met a man with four children who answered the door. One boy was very interested when we told him about SNICK and when I told him we play 4-Square there, he told me all about the rules. Our longest conversation was with one African-American family who are about to be evicted from their property. Several neighbors have complained about them. They've been called the "n-word" by one neighbor. They have lived there 15 years and now don't quite know what to do. Katherine and I weren't there to fix the problem, but we were there to listen and to pray. They welcomed our prayers.
You don't go out on the streets to do this kind of work so that you'll gain more members. You do this because God has so blessed us with love, care, and grace that it spills out of our hearts and we have to share it with others. We may never see those families again, but at least for a moment, they felt that someone cared about their problems. That made it all worthwhile.
Comments Off on Change Through Relationship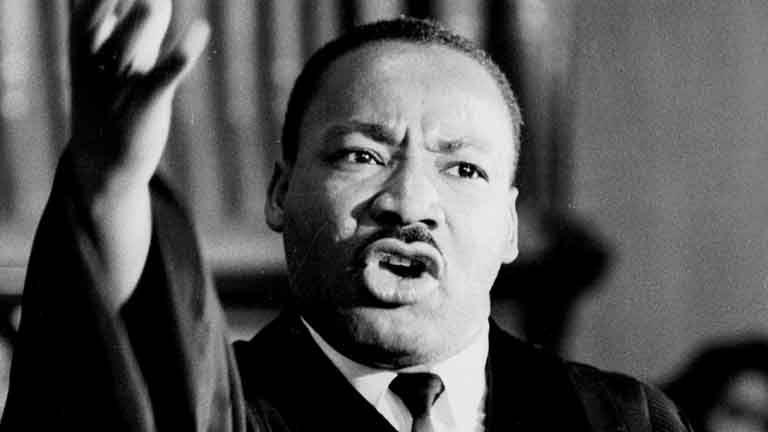 Below is the text of the sermon preached by Father Jeff at the 2015 Martin Luther King, Jr. Day Inspirational Program held at Friendship Baptist Church on January 19, 2015.
Almighty God, by the hand of Moses your servant you led your people out of slavery, and made them free at last; Grant that your Church, following the example of your prophet Martin Luther King, may resist oppression in the name of your love, and may secure for all your children the blessed liberty of the Gospel of Jesus Christ; who lives and reigns with you and the Holy Spirit, one God, now and for ever. Amen.
First, I want to say "thank you." Thank you to my friend Pastor Eric Seldon of Christian Valley Church for inviting me to speak. Thank you to Pastor Lacoia Day and the good people of Friendship Baptist for opening your doors to us. Thank you to all of you who are here today. Thank you, Lord, for giving us this day. Thank you.
Second, I want to be real for a moment. Can I do that? Is this a safe place for me to be honest? Pastors have to ask that question because not every church is a safe place to be real and honest. I wish it weren't true, but it is. So can I be real with you? I have a confession to make and seek your forgiveness as the Body of Christ. You may not like it and it may put us at a distance. You may look at me differently. But before we get going here, I thought I might need to put all my cards on the table. So here we go…
My name is Jeff and I am a recovering racist. Read more
Comments Off on Carrying Golden Things
One thing that churches do that is really dumb is to put age restrictions on everything.
When I was a teenager, our high school youth group was for kids in high school – 9th through 12th grade. Makes sense, right? But there was one friend in our group who was a year older. When he graduated high school, he was told by the leadership that he could not come back to youth group. He wasn't going off to school. There wasn't a young adult group for him. Basically, they told him, "You're done with church. Congratulations!" Can you imagine?
I understand if you're in a large church and there are 50 or so in one age group. But few Episcopal churches fall into this category. For some reason, small churches think they have to abide by the age-restriction rules. Nurseries have to be for babies to 3 year olds, Sunday school is for elementary kids, youth group is for middle school and high school. And so we've segmented out our education and will even put resources into education for a group of 3 seventh graders instead of putting them in with the group of 10 high schoolers.
It's not just formation classes, either. This past Sunday I was delighted that my 5-year-old son served as an acolyte for the first time. I was incredibly proud, and most importantly, so was he. I posted his pictures all over the internet and got all kinds of affirming comments. One friend said that her church told her son that he couldn't be an acolyte until he was in 4th grade. Now, I know I don't know the history of that church and perhaps they have a good reason for something like this, but c'mon. In a world where kids are finding many things seemingly more interesting than engaging with the Creator of all things through worship, why are churches still doing this kind of thing? Read more
Comments Off on Sabbatical Proposal
Last Sunday, we had a parish meeting to discuss my upcoming sabbatical in May -July 2015. It was a very well-attended meeting with many good suggestions and ideas. I felt very supported in this, even though anxieties were expressed by both the congregation and me. Someone had asked if I would post the sabbatical proposal we sent to the Lilly Endowment in order to receive the grant we received. This gives you an idea of what we envision this sabbatical to be, not just for me but for the whole St. Nicholas congregation. This narrative is truly a group effort which included work by David Johnson, Linda Sawyer, Patty Hamilton, Amy Buchanan, Dave Halmrast, and myself.
Sabbatical Proposal
Summary Statement He put a new song in my mouth, a song of praise to our God; many shall see, and stand in awe, and put their trust in the LORD. Psalm 40:3 Read more
Comments Off on Best Kind of Family Vacation
This past week, my family and I went on vacation to Hendersonville, North Carolina to the Kanuga Conference Center. This was the third year of being chaplain for Kanuga's Summer Guest Period. Kanuga has a long-standing history of families going there for extended stays for the past 60-70 years. Many of the families we met had been going to Kanuga for generations. It is an annual gathering place for families who are spread all over the United States to reconnect and renew themselves.
Getting to be the chaplain was a real treat. It was a little bit of work, though. Families arrive on Saturday and leave on the following Saturday, and the week is full of activities for everyone. There are 2 worship services in the chapel on Sunday, evening prayers (Vespers) almost every night, and a Bible Study on Monday, Wednesday, and Friday that I was responsible for overseeing. Also, I had to make sure there were blessings said before every meal. Read more
Comments Off on How a Muslim Helped Me Read the Bible
Sometimes I get stuck on a piece of Scripture like a popcorn kernel lodged inconveniently in my teeth. One such passage is Genesis 22:1-14, or better known as "that crazy story about Abraham wanting to kill his son Isaac." I've struggled for years on this one, even more so since I became a father myself, and I still don't have it quite figured out.
But this week I found help in the most unexpected places. Read more
Comments Off on Balance Between Extroverted & Introverted Church
When Molly and I were doing pre-marital counseling, we took the Myers-Briggs Type Indicator test. This is a personality test that is used in many professional settings, and one that is extremely helpful, I find. However, when we took it, we found that we were exact opposites on the test. Among our differences, I am an "off-the-charts" extrovert, which means I gain energy from being around people and process thoughts out loud, and Molly is an extreme introvert, which means she gains energy from being alone and quiet and processes internally. Both have their strengths and weaknesses, but understanding the other is vital to making things work in a relationship. The counselor who administered the test to us said not to worry about these differences. "Instead," she said, "you will eventually balance each other out." The type indicator is not an either/or label, but suggests that we all fall along the spectrum between introvert and extrovert. Some folks straddle the line and can gain energy both with people and alone. Sometimes, when we spend a great deal of time with those who are opposite from us, we come a bit closer to the center of the spectrum.
Churches tend to fall along the spectrum depending on the clergy, the culture, and the congregation. St. Nicholas could be seen as an extroverted church because of our dedication to being warm and friendly. But compared to a church that has electric guitar and a drum kit, we may be considered much more introverted. We enjoy being around each other and we gain energy when more people are around. We also have many introverts in our midst who enjoy contemplation, silence, and inward processing. Our worship reflects both types, with periods of silence and also exuberant shouts of "Alleluia" and "AMEN," with rousing contemporary anthems and reflective traditional hymns. Extroverted churches can be wrongly cast as shallow, not intellectual, or too charismatic, while introverted churches can be mistaken as snobby, aloof, or cold. Yet for a church to be healthy, I think, they need to strike a balance between the two. Read more
Comments Off on 4 Things Needed For 'Ashes To Go'
In my last post, I talked about my experience of Ashes To Go. My post has gained a lot of support, but I also have heard some criticism from my fellow Episcopalians about doing it. I heard through a parishioner of mine that a few are likening us to "Baptists" or other denominations who stand on the corner and preach. First of all, that kind of Christian elitism has got to go. It only makes Jesus cry. Second, my post was not intended to say that every church should do Ashes To Go. In fact, some churches need to NOT do Ashes To Go.
Ironically, or not so ironically, in the Gospel lesson for Ash Wednesday, Jesus says this:
"And whenever you pray, do not be like the hypocrites; for they love to stand and pray in the synagogues and at the street corners, so that they may be seen by others. Truly I tell you, they have received their reward. But whenever you pray, go into your room and shut the door and pray to your Father who is in secret; and your Father who sees in secret will reward you." Read more
Comments Off on 4 Reasons Why Ashes To Go Works
Last week on Ash Wednesday, I had one of the most incredible experiences in my life as an ordained person. That's really not hyperbole. For the first time ever, I joined many of our lay leaders from St. Nicholas to take our tradition of Ash Wednesday to the streets of Hamilton for "Ashes To Go." Ashes To Go is basically a way for the Church to offer a brief liturgy of the imposition of ashes to people in the community. We gathered at our community outreach facility FOCUS, paired up, and each took a station on the four corners of the block in downtown Hamilton. Two bold members of St. Nicholas, Gabe Clouser and Anne Simpson, took to the streets in their full vestments and walked from business to business inviting people to receive ashes.
Comments Off on SNICK Relocating to HUMC
SNICK (St. Nicholas Kids), our exciting Wednesday night program for kids, has been growing! When we started it in 2012, we had a core of 12 elementary-school-aged children and 3 teenage mentors. This core group included St. Nicholas members but also children from the neighborhoods around the church. That group started going out and telling their friends about SNICK, and now we have doubled the number of children and teens who are consistently participating. What a great challenge to have!
At SNICK, the kids worship via the nighttime prayer service Compline (which they lead), they eat dinner together, and then they learn about the Bible and our Episcopal tradition through games, art projects, drama, and many other activities.
Our biggest challenge with SNICK has been space-related. Having 15 was a challenge last year, but growing to 25 has been near impossible in the one Sunday School room we have. Especially in the colder months, when we have to be inside, it has affected what kinds of activities we do. Choir meets at the same time as SNICK, and they need to use the nave. Many choir members are parents of SNICK kids, so this has been a beneficial scenario for both SNICK and our music ministry. Read more