Worship With Kids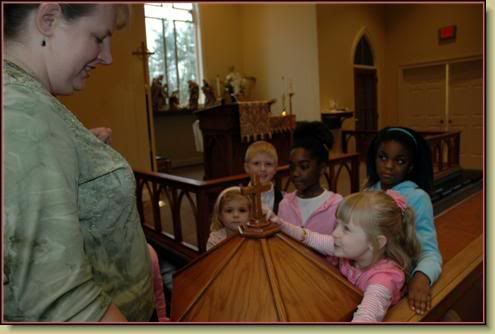 Worship With Kids (Download this really neat Worship With Kids Brochure): Studies have shown that churches who include children in their worship service are more vibrant and exciting. Churches who include children in worship have a tendency to grow, as well. But that's not why we think it's important for kids to be in church. First, when some of the disciples wanted to turn some children away, Jesus insisted that they come to him. If there's one hour of the week that families should be together, it is during church. Second, countless parents of young adults lament that their children are no longer interested in church. The question to ask is, "Did your church make them feel welcome there when they were little?" Sure, kids are rambunctious, and parents may not get to hear the whole sermon every week, but in order for children to learn why church is important, we have to keep them in church! 
Yet this doesn't mean that children should take control of the worship experience either. Everyone has to learn how to pray, listen, sit still, sing, and worship in church at some point in their lives, so at St. Nicholas, we're intentional about teaching our children the richness of our faith and traditions. 
Children are invited (but not forced) to process in with the acolytes, the Lay Eucharistic Ministers, and Fr. Jeff. We reserve the front row for them, so they can see everything that's going on. They sit with Shepherds, people who care about our kids and want to teach them about worship. The Shepherds help the children worship and take them out if they need to go out. Children are more expressive about their emotions than adults, so when they get emotional, they are welcome to go out of the service for a little while. The Shepherds also give the children worship bags with quiet toys, crayons, and paper to keep them occupied when their attention falls away from worship.
Also, Fr. Jeff regularly offers a Little Kid's Sermon just before the Big Kid's Sermon. He's also available at any time for one-on-one instruction with children on how to worship. So come and worship and bring the kids!