Our Bishops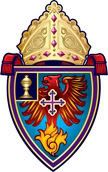 A "diocese" is a large body of Episcopal churches. St. Nicholas is an active part of the Episcopal Diocese of Atlanta.
Bishop Robert Wright welcomes you from Episcopal Atlanta on Vimeo.
The Right Reverend Robert C. "Rob" Wright, Diocesan Bishop: The word "episcopal" means "a church with oversight by a bishop." Our bishop is the Right Reverend Rob Wright, the 10th bishop of the Diocese of Atlanta. Bishop Wright makes regular visits to St. Nicholas to provide pastoral care, inspiration, and connection to the larger church. Click here for more about Bishop Wright.
The Right Reverend Keith Whitmore, Assistant Bishop: The job of a bishop is difficult, overseeing so many congregations. The Diocese of Atlanta is blessed to have the Rt. Rev. Keith Whitmore serve as the Assistant Bishop to Bishop Alexander. Bishop Whitmore makes regular visits to St. Nicholas as well, supporting both our ministry and Bishop Wright's. For more about Bishop Whitmore.